Miscellaneous
Thundereggs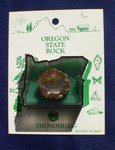 The Oregon State Rock is the Thunderegg. This product is a halved and polished Thunderegg, approximately 1" in diameter; placed in an Oregon shaped box lined with foam. Included is an information card with details about the history and geology of the Thunderegg.

Great as a collectible, souvenir, or gift. Email for discount availability.

No two Thundereggs are the same.

---
---